---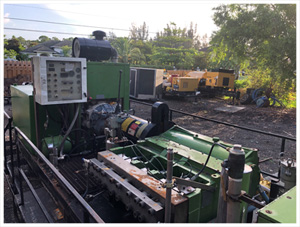 NLB 40250
Cummins M11 330HP

Eaton Transmission

40K @ 12GPM
We are a Hammelmann distributor and authorized Gardner Denver repair facility.
---
LaPlace Equipment Company has one of the largest fleets of hydroblast units, tools and accessories in the country and our friendly, knowledgeable staff is ready to serve your needs 24 hours a day, 7 days a week, 365 days a year.
Pressures 10,000 - 40,000 PSI
Flow rates at 10,000 psi up to 80 gpm
Flow rates at 20,000 psi up to 25 gpm
Flow rates at 40,000 psi up to 10 gpm
2D-3D nozzles
10K-40K rotating nozzles for surface cleaning
Rigid lance machines
Sales of parts, accessories and high pressure hose
New and used waterblaster sales
---
---

Filling all of your water jetting needs … 7 days a week, 24 hours a day.
Phone
Fax
Email
Location
167 Jaubert Lane
LaPlace, LA  70068